The Owase Chamber Of Commerce of Industry
Phone: +81-597-22-2611
Owashi Alps is a mountain ridge that stretches throughout Owase.
The trail may look steep from the city side but actually has some flat routes, and you can enjoy a panoramic view of the sky and ocean as well as rich forest.
Area Map & Recommended Courses
3-1 Kairoyama (Kawa no Oku)
3-2 Yugoyadani no Kashira Bokeshi Course 3. Yugoyadani no Kashira
3-3 Shionosaka/Hinokio Toge
3-4 Takaminesan
For more details, please refer to the guidebook which includes beautiful photos and detailed maps.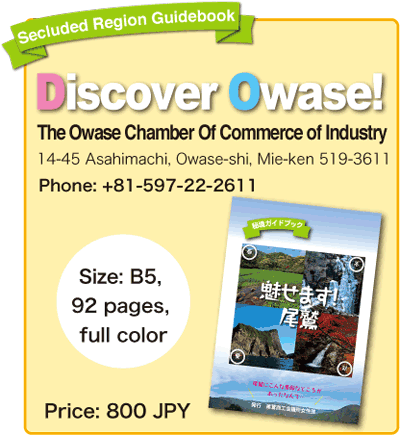 Shionosaka/Hinokio Toge
Thousand year-old cedar tree
Giant cedar tree in Takaminesan